Welcome To YKO Chicken BBQ!
Our goal is to introduce and promote culinary flavours from Africa particulary spices and dishes from Coté d'Îvoire. We have been serving the national capital region since 2000. Our first retaurant, Yre's Chicken BBQ, was located on Rideau and Charlotte Street in Ottawa. In 2010 we moved to 375 Mcarthur Avenue and renamed Yre's to YKO Chicken BBQ.
2012 has been our year. We opened 3 additional locations: one in Montreal, Quebec, and two within the nation's capital region.
To satisfy all our customers, our meat is halal. We appreciate quality and health. Our chickens are grain fed and bread in the best conditions. Our meat is cooked the traditional way: on real wood charcoal.
We are proud to hear from our valued customers that our chicken is the best in the Ottawa!
Do not miss it. Try it. Adopt it.
Come vist one of our locations today and taste the YKO BBQ Experience!
Testimonials from OttawaFoodies.com
The chicken is unreal. Cooked perfectly, and the jerk spice is just right for heat and taste. You can get them to crank up the heat if you want it.
The couscous is ok, and the fried plantain are delicious. I have had some issues getting food in a timely manner, calling ahead and then sitting around for about 30 minuites... and i have trouble communicating with the staff, (i dont speak french) but with the help of some pointing and gesturing i was fine. Great stuff. Cooked over REAL charcoal!
- Ian
This place is exactly what one craves in the winter. A delicious, char-grilled whole chicken with a side order of plantains. Unpretentious delectable food.
Just walking into this place, you know the chicken will be great - the inviting smell that lingers is enough to make you return.
I ordered ahead and my chicken was ready to go when I arrived.
- Cafe Cool
Review from OttawaTourism.ca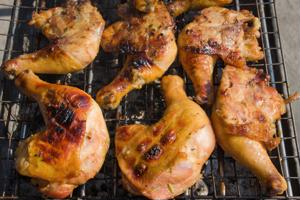 Canadian cuisine isn't all poutine and maple syrup. As the meetingplace for dozens of different cultures, the capital city of Ottawa knows a thing or two about international fare, and the folks at YKO Charcoal BBQ Chicken on McArthur Avenue serve up some seriously delicious West African barbecue chicken.
While those who travel to Canada are well aware of the delicious food found in cities all over the country, they may be surprised to find a joint like YKOs in Ottawa, Ontario. Formerly known as Yres, YKO Charcoal BBQ Chicken has started anew, offering similar menu items with high quality ingredients in a comfortable ambiance.
Packed with smoky flavours and grilled to perfection, YKO's chicken will put a damper on anyone's appetite, and they'll probably have a hard time sharing more than a few bites. Visitors staying in Ottawa hotels should order a side of fried plantains and rice to complement the spicy meat, which is already served with a refreshing tomato-and-onion salsa.